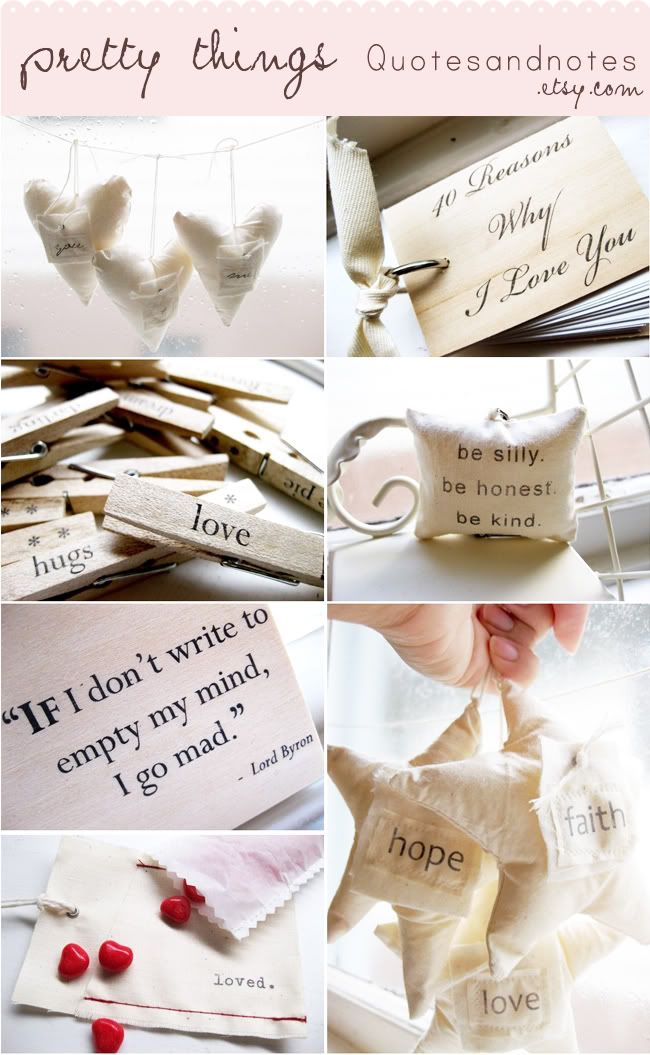 by
Quotesandnotes
Interesting customized tags, bookmarks, clothespins and more for that personal touch. '
If I don't write to empty my mind, I go mad
' wood notepad seems to be my favorite item from their shop because I personally feel writing is the best way to express your thoughts. Another item from their shop which I can't seem to resist is their set of
matching heart shaped cotton plush
with the words, "You + Me".
It's raining, It's pouring, ..and you and me are needing a little warmth and lovin'!
- the right words to say to your significant other during a rainy weather. Great as gifting for anniversaries or romantic occasions.
Or maybe, if you're more of a writer, pen those inner emotions down on this sweet '
40 Reasons why I love you
' wood mini notepad. He/She will probably feel smitten by your adoring words, I'm sure. Other unique items include this
cozy coffee sleeve
(
All the coffee in Columbia won't make me a morning person.
- What an amusing gift to give to a coffee lover),
lovely set of 12 clothespins
(includes all sorts of words of Love so you can use them to clip up little love messages or pictures on the walls/bedroom) and even
customized gift tags
. Be sure to check out
Quotesandnotes
for more.