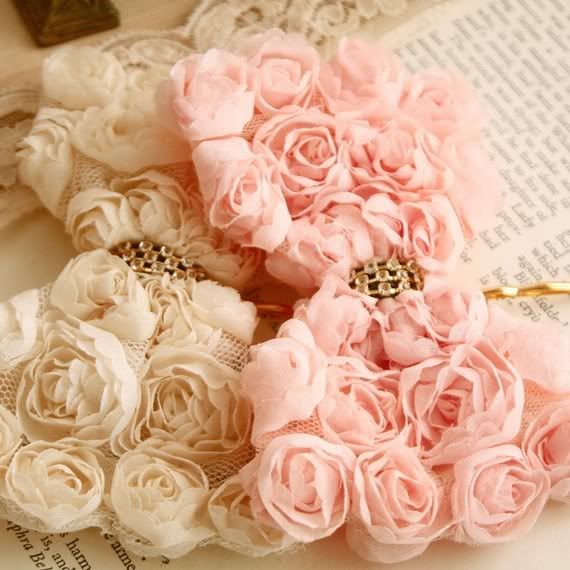 Blossom hair pins
A blessed 2011 to you ♥
Oh my, time sure flies really fast. I still feel like I am in 2010... *laughs* With no further ado, here is one of my precious creations to begin with. Bobby pins for your hair in creamy ivory and rose pink. Delicate, and very feminine. What's even more special about these is that, they have a rhinestone chain surrounding the middle of it in gold and I can't help swooning over the roses and tulle which is altogether shaped into a bow. But of course, my most favorite creation of the present would be these
charming bird cages in pink and white
(pictured on the left).
I'm trying to keep this blog alive as much as I can, pertaining to updates of my shop. Yes, sneak peeks and giveaways will be included ;) Congratulations to Susan for winning the
giveaway
over at
Indie Spotting
(thanks so much, Erika!). I will be adding more new pieces as much as I can over the weekend. I don't have any particular New Year's resolution in mind but I do believe that a smile a day will bring you happiness for the rest of your life.
Till the next update continues.
PS:
Can you spot the tiny snowflakes around you?